The Young Israel Of East Northport is highly regarded as the most reliable synagogue in Suffolk County where a Minyan can consistently be found.
Join Us For Our Daily Minyan
Morning Minyan: Monday – Friday 6:45 am; Sunday 8:30 am
MAARIV SERVICES 8:30 PM
Young Israel of East Northport Weekly Newsletter
MESSAGE FROM RABBI LOEWY:
Parshas: Ki Seitzei
The commentators explain the opening verse of this week's parsha "ki seitzei lamilchama al oycecha" "when you will go out to war against your enemies" referring to a war we must wage every day of our life against the evil inclination. Our evil inclination fights extremely hard against us but we must stand up to it and not let it bring us down. Rav Avraham Yehoshua Freund zt"l who was the rabbi of Nasaud, Hungary explains that the letters of "teitzei" are an acronym for the words "tzazyer tzuras avicha" which literally means conjure up an image of your father before your eyes. The advice the Torah gives each and every one of us is when the evil inclination tries every which way to get the better of us take a moment and think about your father. Think about how disappointed he would be with you if he saw you committing this sin and hopefully this will serve as a deterrent from falling prey to the evil inclination. As parents, we must make sure we live up to this "positive image" that we are supposed to have in our children's lives and be a guiding light for them at all times. This will enable all of us to have beautiful families built on the values set forth from our Holy Torah.
Have a Wonderful Shabbos!
Announcements
• THIS SUNDAY: The Sisterhood will be having their annual kick off brunch on Sunday, September 15th at 10:00 am with delicious food! Rabbi Loewy will be giving an exciting lecture entitled "New Year New Opportunities"- Where do we start? All are encouraged to join. Please RSVP to yieastnorthportsisterhood@gmail.com if you have not yet done so. Thank you to Drs. Brian & Bonnie Gilman for sponsoring the brunch.
• EXCITING SHUL FUNDRAISING RAFFLE!! Our annual summer raffle is under way!! This year's prizes are: 1st place- $2,500, 2nd place-$750, 3rd place- a choice of $350 or 2 free tickets to the YIEN 40th annual journal dinner! 1 ticket for $36, 2 for $54 and 3 for $100. Tickets can be purchased on the YIEN website, yieeastnorthport.org. For more information, please contact Mr. Ben Guterman at bengut@optonline.net.
• If you have not reserved your High Holiday seats, please make sure to do so ASAP. Members are $50 and non-members are $100. There is a discount for college students and young professionals at $75 a seat. Please contact Mr. Ben Guterman with any questions.
• The shul will be having a Melave Malka and evening of inspiration on the first night of selichos, Motzei Shabbos, Sept. 21st at 10:30 pm. Please see flyer for more details.
• The Rabbi's Monday evening ladies class on "The Laws and Beauty of Shabbos" takes place every week at 7:45pm.
• BE A PART OF JEWISH HISTORY! On January 1, 2020, join thousands of Jews at Metlife Stadium as they celebrate the momentous occasion of the Siyum Hashas (Completion of the entire Talmud Bavli through Daf Yomi)! Rabbi Loewy has arranged group seating for our shul members. If you are interested in getting tickets, please email the Rabbi at rabbiloewy@gmail.com as soon as possible. Transportation will be provided.
• Reminder: The sisterhood is still selling all occasion cards for $10 each and a package of 4 for $36. This is a great way to support the shul and show a loved one you care. In addition, we are continuing to sell supermarket gift cards to benefit the shul. A percentage of each card purchased will be donated to the shul. To purchase cards orfor more information, please contact Shulamith Guterman at (631)-543-8699.
Upcoming Shul Events
• To Sponsor a kiddush, Sunday morning breakfast and learning, or other shul event, please contact Mr. Ben Guterman @ bengut@optonline.net
YIEN in the Press
Update this content.
YOUNG ISRAEL OF EAST NORTHPORT PESACH 2019 / 5779
YIEN'S First Potatoe Harvest Sunday October 7th
Thank you To Mindy and Mark Badash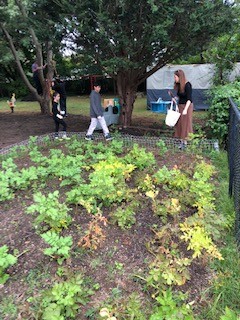 Mon, September 16 2019
16 Elul 5779
Today's Calendar
Shacharis

: 6:45a
Maariv

: 8:30p
---
Friday Night
Shabbos Day
Shacharis

: 8:45a
Mincha

: 6:20p
Havdalah

: 7:43p
Parshas Ki Savo
Candle Lighting
Havdalah
Motzei Shabbos, Sep 21, 7:43p
Erev Rosh Hashana
View Calendar
Zmanim
Alos Hashachar
5:12a
Earliest Tallis
5:44a
Netz (Sunrise)
6:35a
Latest Shema
9:41a
Zman Tefillah
10:43a
Chatzos (Midday)
12:48p
Mincha Gedola
1:19p
Mincha Ketana
4:26p
Plag HaMincha
5:43p
Shkiah (Sunset)
7:01p
Tzais Hakochavim
7:46p
More >>
Mon, September 16 2019 16 Elul 5779