The Young Israel Of East Northport is highly regarded as the most reliable synagogue in Suffolk County where a Minyan can consistently be found.
Join Us For Our Daily Minyan
Morning Minyan: Monday – Friday 6:45 am; Sunday 8:30 am
Young Israel of East Northport Weekly Newsletter
MESSAGE FROM RABBI LOEWY:
Parshas: EMOR
This week's newsletter is sponsored by Drs. Brian & Bonnie Gilman in honor of Max Blooms Bar-Mitzvah. If you would like to sponsor a future newsletter, please contact Rabbi Loewy or a Board member.
In the middle of the Torah describing all the Jewish festivals, we are reminded of the law to leave the corner of every field for the poor. Rashi quotes R' Avdimi Bar Yitzchak who explains the reason the Torah put this law in the midst of the discussion of our holidays is to teach us that whoever takes care of the poor and impoverished is rewarded as if they built the temple and brought sacrifices in it. The question is what is the relationship between leaving the corner of our fields and building the temple? R' Moshe Feinstein zt"l in his classic Darash Moshe quotes the famous statement of chazal "in the merit of our charity we will be redeemed". If a person gave charity and took care of the poor, he has done a great deal in hastening the redemption and rebuilding the Temple. The Torah credits such an individual with having rebuilt the Temple because if everyone would be conscientious in charity like this individual the Temple would be returned to us. May we take this pivotal lesson of the significance of charity to heart and in that merit, we will hasten the coming of Mashiach and the building of our holy Temple.
Have a Wonderful Shabbos
Announcements
Mazel Tov to Max Bloom upon his Bar-Mitzvah this Shabbos! Mazel Tov to proud parents Mr. & Mrs. Adam & Suzy Bloom! Mazel Tov and Welcome to all family and friends joining in the simcha.

Adam and Suzy invite all to join in a kiddush and buffet lunch immediately following davening to celebrate Max's Bar-Mitzvah. May we continue to share in many more simchas together!

Welcome back to Mr. Roger Gottfried! We missed you!

We extend our sincerest condolences to the Berman family upon the loss of our dear member, Natalie Berman A"H. Shiva is being observed at the home of Barry Berman

812 Ave. O, Brooklyn, NY 11230 (Side Door Middle Bell) until Monday morning.

Please join us for a delicious, inspiring and entertaining Shavuos Luncheon on the second day of Shavuos, Monday, June 10th. PLEASE RSVP to elishevaloewy76@gmail.com

as soon as possible.

If you are interested in sponsoring any of the many events which will take place over Shavuos including a delicious luncheon, all night learning with Rabbi Loewy in the shul, a woman's class at the Loewy's & more please contact Adam Bloom.

Attention women and girls!

Please join us on Sunday, June 23rd for a Pre-summer sisterhood brunch with an interactive fruit carving presentation with Esther Zafrani of Glorious Creations Desserts. Each woman will create 3 of her own beautiful and delicious fruit creations! $25 admissions per person. PLEASE RSVP to elishevaloewy76@gmail.com

. If you are interested in sponsoring the event, please contact the Rebbetzin.

MARK YOUR CALENDARS!!

Back by popular demand!!! The Traveling Chassidim will be returning to East Northport this Shabbos Nachamu, August 17th!!! Please join for an inspiring and uplifting Shabbos! Many more details to follow!
• YIEN has officially launched our new Yartzheit reminder program. If you would like to add a name to be sent a reminder for, or know anyone who would be interested in receiving a reminder, please contact Mindy@healthygifts.com or Suzyim6@yahoo.com.
Upcoming Shul Events
Sunday Morning Breakfast and Learning will take place this week at 9:20 am with Rabbi Loewy. The topic will be "Did the Jew's really become a nation on Pesach Sheni"?

Please join us on Sunday, May 19 in planting this year's garden and enhancing the outer appearance of the shul! Please contact Dr. Charles Famulare for more information.
The Monday evening Ladies Class on Shearim B'Tefilla with Rabbi Loewy meets every week at 7:45 pm.
• To Sponsor a kiddush, Sunday morning breakfast and learning, or other shul event, please contact Mr. Ben Guterman @ bengut@optonline.net
YIEN in the Press
Update this content.
YOUNG ISRAEL OF EAST NORTHPORT PESACH 2019 / 5779
YIEN'S First Potatoe Harvest Sunday October 7th
Thank you To Mindy and Mark Badash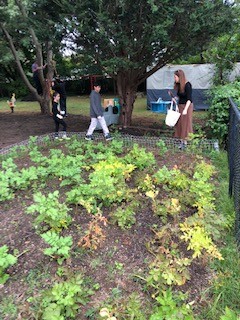 Fri, May 24 2019
19 Iyyar 5779
Today's Sefirah Count Is 34
היום ארבעה ושלשים יום שהם ארבעה שבועות וששה ימים לעמר
Today's Calendar
Shacharis

: 6:45a
Mincha

: 7:15p
Candle Lighting

: 7:54p
---
Friday Night
Mincha

: 7:15p
Candle Lighting

: 7:54p
Shabbos Day
Shacharis

: 8:45a
Mincha

: 7:40p
Havdalah

: 9:03p
Parshas Behar
Candle Lighting
Havdalah
Motzei Shabbos, May 25, 9:03p
Shabbos Mevarchim
View Calendar
Zmanim
Alos Hashachar
3:46a
Earliest Tallis
4:29a
Netz (Sunrise)
5:29a
Latest Shema
9:09a
Zman Tefillah
10:23a
Chatzos (Midday)
12:50p
Mincha Gedola
1:27p
Mincha Ketana
5:08p
Plag HaMincha
6:40p
Candle Lighting
7:54p
Shkiah (Sunset)
8:12p
Tzais Hakochavim
8:57p
More >>
Fri, May 24 2019 19 Iyyar 5779