The Young Israel Of East Northport is highly regarded as the most reliable synagogue in Suffolk County where a Minyan can consistently be found.
Join Us For Our Daily Minyan
Morning Minyan: Monday – Friday 6:45 am; Sunday 8:30 am
Young Israel of East Northport Weekly Newsletter
MESSAGE FROM RABBI LOEWY:
Imagine Yaakov's reaction after working tirelessly for Lavan with the anticipation of receiving his daughter Rachel as a wife and then being tricked and fooled at the wedding. This definitely can cause someone to get quite angry and hotheaded. However, if we examine the episode it is important to note Yaakov's reaction to Lavan. Yaakov says "what is my transgression? What is my sin that you have hotly pursued me?" He is extremely careful about starting an argument with Lavan that he questions him about what he might have done to cause Lavan to do this as opposed to blaming Lavan and arguing with him. The Chofetz Chaim learns from this episode how horrific arguments are and how careful we must be to stay far away from any arguments. Some of the commentaries state that there is a negative commandment in the Torah to abstain from any arguments which is learned out from the verse in Parshas Korach "one is not to be like Korach and his followers". We must be so careful to distance ourselves from even the slightest fight and make sure we keep peace and serenity in the Jewish nation. Have a Wonderful Shabbos!
Have a Wonderful Shabbos!
Announcements
Kiddush is sponsored by Mrs. Arlene Schneider commemorating a family yahretzeit.
Thank You to Drs. Brian and Bonnie Gilman for arranging and sponsoring the carpet cleaning in the shul this past week. • Become Familiar with the Laws of Shabbos! "5 MINUTE" Hilchos Shabbos every Friday night before Maariv during Standard time with Rabbi Loewy.
Sunday morning Breakfast and Learning with Rabbi Loewy this week at 9:20 am.
Thank you to everyone who helped make the challah bake a smashing success. An enjoyable and uplifting evening was had by all. A special thank you to the Rebbetzin for all her work, Sharon Popovitz, and Bonnie Gilman for coming early to help set up. Thank you to Rebbetzin Adelman for her inspiring words. Enjoy your challos!!
MAZEL TOV to Mr. Herman Gancz upon the birth of a great grandson.
MAZEL TOV to Dr. and Mrs. Harold Schechter upon the engagement of their daughter Jessica to Aaron Herring.
Thank you to Mrs. Ellen Hynes for sponsoring last week's kiddush commemorating the yahretzeit of her father.
Thank you to all who participated in YIEN's first successful potato harvest! Special thank you to Max Bloom and Ava Haddad for your help harvesting!
Upcoming Shul Events
SCHOLAR IN RESIDENCE WEEKEND: Rabbi Marc Volk will be joining us for Shabbos Parshas Vayigash, December 14-15. There will be a shul wide Friday night Dinner, Oneg Shabbos, and much more. Watch your emails this week for further details.
Women's Shearim B'Tefilla class with Rabbi Loewy takes place every Monday evening at 7:45.
Sisterhood Kick-off Event: "PAINT NIGHT AND CREATE YOUR OWN SALAD"- Change of Date TBA very soon
SAVE THE DATE! YIEN's Annual Chanukah Party will take place on Motzei Shabbos Chanukah, December 8th
To Sponsor a kiddush, Sunday morning breakfast and learning, or other shul event, please contact Mr. Ben Gutterman @ bengut@optonline.net
YIEN in the Press
Update this content.
YIEN'S First Potatoe Harvest Sunday October 7th
Thank you To Mindy and Mark Badash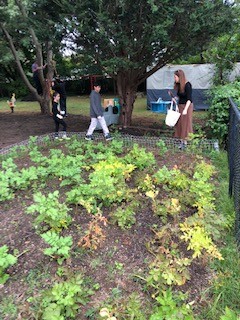 Wed, November 21 2018
13 Kislev 5779
Today's Calendar
Shacharis

: 6:45a
Maariv

: 8:30p
---
Friday Night
Shabbos Day
Shacharis

: 8:45a
Mincha

: 4:00p
Havdalah

: 5:19p
Parshas Vayishlach
Candle Lighting
Havdalah
Motzei Shabbos, Nov 24, 5:19p
Shabbos Mevarchim
View Calendar
Zmanim
Alos Hashachar
5:21a
Earliest Tallis
5:54a
Netz (Sunrise)
6:47a
Latest Shema
9:13a
Zman Tefillah
10:02a
Chatzos (Midday)
11:39a
Mincha Gedola
12:03p
Mincha Ketana
2:29p
Plag HaMincha
3:30p
Shkiah (Sunset)
4:31p
Tzais Hakochavim
5:16p
More >>
Wed, November 21 2018 13 Kislev 5779