The Young Israel Of East Northport is highly regarded as the most reliable synagogue in Suffolk County where a Minyan can consistently be found.
Join Us For Our Daily Minyan
Morning Minyan: Monday – Friday 6:45 am; Sunday 8:30 am
Young Israel of East Northport Weekly Newsletter
MESSAGE FROM RABBI LOEWY:
Parshas: Teruma
The Jewish people's enthusiastic response upon receiving the Torah was quite evident from their words "we will do and we will obey." The Sefer Vayakhel Moshe writes based upon the Baal Shem Tov a beautiful connection between the response of "we will do and we will obey" and the building of the Tabernacle. He says when an individual receives inspiration in Judaism and mitzvos they should not wait to put it into practice. Rather, they should immediately act upon it before their inspiration dwindles and goes away. G-d saw the incredible excitement the Jews exuded when they received the Torah so he wanted to make sure they acted upon it before it left their souls. Therefore, He immediately commanded them to build a Tabernacle for G-d to rest in. We all experience bursts of inspiration and renewed excitement toward mitzvos. It is so pivotal that we immediately act upon it and put it to practice to keep that inspiration going for eternity.
Have a Wonderful Shabbos
Announcements
This week's newsletter is sponsored by Drs. Brian & Bonnie Gilman. If you would like to sponsor a future newsletter, please contact the Rabbi or a board member.
• Kiddush last Shabbos was sponsored by Drs. Adina & Charles Famulare in memory of Ettel bas Aharon a"h.
• Sisterhood mishloach manos information has been sent out! There has already been an extremely enthusiastic response! If you have not yet responded, please do so!
• Attention Youth & women! Please join us on Sunday March 10th for hamentashen and dessert baking for the purim seuda at YIEN. (Community service & chessed hours are given) Please RSVP to elishevaloewy76@gmail.com if you are interested in joining.
Upcoming Shul Events
• MARK YOUR CALENDARS! Hachnosas Sefer Torah Celebration at YIEN welcoming a brand new Torah donated by Mrs. Celia Rapp (Rabbi and Rebbetzin's Grandmother) will take place on Sunday, May 5th. More details to follow.
• Please join us Sunday March 31st for the YIEN Journal Dinner as we celebrate our past, * Present & future. Celebrating:
* The inauguration of Rabbi & Rebbetzin Loewy,
* Presenting Mr. & Mrs. Ken & Linda Liebowitz the Chessed Award,
* Installing the new YIEN Board,
* Paying a tribute of gratitude to Rabbi & Rebbetzin Bausk.
Invitations and journal information will be mailed out this week!
• Rabbi Loewy's Monday Evening Ladies class on "Shearim B'Tefilla" takes place every Monday evening at 7:45 pm.
* To Sponsor a kiddush, Sunday morning breakfast and learning, or other shul event, please contact Mr. Ben Guterman @ bengut@optonline.net
YIEN in the Press
Update this content.
YIEN'S First Potatoe Harvest Sunday October 7th
Thank you To Mindy and Mark Badash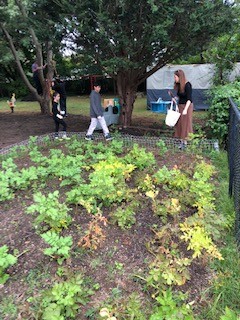 Tue, February 19 2019
14 Adar I 5779
Today's Calendar
Shacharis

: 6:45a
Maariv

: 8:30p
---
Friday Night
Shabbos Day
Shacharis

: 8:45a
Mincha

: 5:05p
Havdalah

: 6:27p
Parshas Ki Sisa
Candle Lighting
Havdalah
Motzei Shabbos, Feb 23, 6:27p
Purim Katan
View Calendar
Zmanim
Alos Hashachar
5:21a
Earliest Tallis
5:52a
Netz (Sunrise)
6:42a
Latest Shema
9:24a
Zman Tefillah
10:19a
Chatzos (Midday)
12:08p
Mincha Gedola
12:35p
Mincha Ketana
3:17p
Plag HaMincha
4:25p
Shkiah (Sunset)
5:33p
Tzais Hakochavim
6:18p
More >>
Tue, February 19 2019 14 Adar I 5779