The Young Israel Of East Northport is highly regarded as the most reliable synagogue in Suffolk County where a Minyan can consistently be found.
COVID 19 IMPORTANT MESSAGE:
YIEN IS NOW OFFICIALLY CLOSED
FOR 2 WEEKS REOPEN DATE FEBRUARY 1st
Join Us For Our Daily Minyan
Morning Minyan: Monday – Friday 7:00 am
EVENING SERVICES 8:00PM
Sunday MORNING 8:30 am
Sunday EVENING 4:30
Young Israel of East Northport Weekly Newsletter
MESSAGE FROM RABBI CHINSKEY:
Parshas: BO
"it shall be eaten in one house: you shall not take any of the flesh outside the house; nor shall you break a bone of it."
The latter part of this Passuk teaches us a unique Mitzvah by the Korban Pesach different than all other Korbanot. The Halacha is that when we are eating from the Korban Pesach we are not allowed to break a single bone of the body. Why does the Torah demand this from us and what is the lesson, specifically on the night of Pesach? The Sefer Hachinuch, a wonderful Sefer which discusses the basic laws and parameters of each and every Mitzvah discusses the meaning behind the Mitzvah. He writes that the goal is to make us feel like kings and queens. Just as we lean, drink wine, and have others pour for us on Seder Night in order that so that we can act like royalty so too with this Mitzvah. It is a sign of poverty to not only eat down to the bone but to even break it open to get every bit of marrow we can. Instead, we show that we are kings and Queens, eat a full meal and then for desert have a delicious sheep or goat. This is a most important lesson especially as we leave Egypt. This is because Hashem is not only taking us out of slavery but also taking the slave mentality out of us by reminding us that we are his children and therefore royalty!
We should be Zoche to the building of the Beis Hamkidash and to always appreciate the greatness that is inherent in all of our souls.
Have a Wonderful Shabbos!
Shabbos Times:
 Candle Lighting: 4:40 pm
 Friday night Mincha: 0:00 pm
 Shacharis: 8:45 am  Latest Shma: 9:39 am
 Rabbis Shiur: After Mincha
 Mincha: 0:00 pm
 Shabbos ends: 0:00 pm
Announcements
We are pleased to inform you that Rabbi and Rebitzen Chinskey and family have officially moved into EAST NORTHPORT
Mazel Tov to Rabbi and Rebbetzin Chinskey
on the birth of a son.
We wish you all well, stay safe and have a wonderful Shabbos.
Rabbi's learning sessions: Sunday at 9:15am in the Shul and on Zoom.
Wednesday night at 7:15 pm on Zoom and if you prefer to come to Shul for the session, please let me know. This is the women's Monday class.
Zoom info:
https://us02web.zoom.us/j/6168808478
(Try clicking on the link, or type it in.)
--------------------------------------------------------------------------------------------------------
Thank you to Ken Ryesky for a contribution for the yahrzeit of Emanuel Pechero, Mendel ben Mordechai, on 20 Tevet.
Thank you to the following for their contributions to the General Fund.
Stanley Liebowitz - chanukah donation
Maria Parker - in honor and memory of Elise Pearlman
Jerry and Anna Gontownik - in honor of Jordana and Ranan Gontownik
------------------------------------------------------------------------------------------------------------------------------------------
Ellen Hynes is continuing the Challah and Delicious Dessert Baking Fund Raising Project.
Please contact her to place an order at 516 429 4233. You have an opportunity to help yourself and the Shul as well.Order now for next Shabbos.
Anyone with a full or nearly full

Tzadaka

Can.....Please bring into Shul and place in the cabinet above the sink between the bath rooms and take an empty container to start the process over. Put your name on the can and we will be able to give you credit for the

endeavor

.
With the Governor of NY amending attendance at religious services in New York you now have the chance to come to Shul for services. Please wear a mask, practice social distancing and be part of our community. We want to make our Shul a business as usual environment and that means each and every one of us has a responsibility for the common good. Come, but remember safe practices will keep everyone safe. Note starting times of davening. Start on time and finish on time.
Please continue to remember we are in a pandemic. Keep social distancing and wear a face covering while in Shul. If you feel feverish or think you have symptoms or came in contact with a positive diagnosed persons do not come to Shul.
Upcoming Shul Events
To Sponsor a kiddush, Sunday morning breakfast and learning, or other shul event, please contact Mr. Ben Guterman @ bengut@optonline.net
YOUNG ISRAEL OF EAST NORTHPORT PESACH 2019 / 5779
YIEN'S First Potatoe Harvest Sunday October 7th
Thank you To Mindy and Mark Badash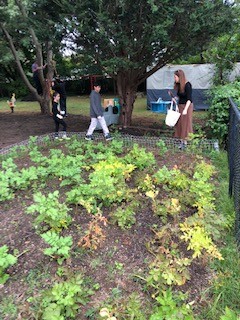 YIEN in the Press
Update this content.
Sun, January 24 2021
11 Shevat 5781
Today's Calendar
---
Friday Night
Shabbos Day
Shacharis

: 8:45a
Mincha

: 4:40p
Havdalah

: 5:58p
This week's Torah portion is

Parshas Beshalach
Candle Lighting
Havdalah
Motzei Shabbos, Jan 30, 5:58p
Tu B'Shvat
View Calendar
Zmanim
Alos Hashachar
5:45a
Earliest Tallis
6:18a
Netz (Sunrise)
7:11a
Latest Shema
9:38a
Zman Tefillah
10:27a
Chatzos (Midday)
12:06p
Mincha Gedola
12:30p
Mincha Ketana
2:58p
Plag HaMincha
3:59p
Shkiah (Sunset)
5:01p
Tzais Hakochavim
5:46p
More >>
Sun, January 24 2021 11 Shevat 5781