The Young Israel Of East Northport is highly regarded as the most reliable synagogue in Suffolk County where a Minyan can consistently be found.
Join Us For Our Daily Minyan
Morning Minyan: Monday – Friday 6:45 am; Sunday 8:30 am
Upcoming Shul Events
Shabbos Project is coming to East Northport!
Please join us for a Challah bake on Wednesday night, October 24th and programming throughout Shabbos. Stay tuned for more details. If you would like to volunteer at the Challah Bake, please contact the Rebbetzin at elishevaloewy76@gmail.com.
To watch the Shabbos Project video Click link SHABBOS PROJECT

Sunday Morning learning and breakfast will begin another season this Sunday, October 21 following davening!
Attention Women: Please join us next Sunday, October 21 at 7:00 pm for the showing of "Bringing the Geulah: with the Power of our Chessed", an inspirational video in honor of Rachel Imeinu's yahrtzeit. Light refreshments will be served. Please see attached flyer for more details.
YIEN in the Press
Update this content.
Young Israel of East Northport Weekly Newsletter
MESSAGE FROM RABBI LOEWY:
In Chapter 15 verse 8, the pasuk says Avrohom said "My Master (Lord), Hashem Elokim: whereby shall I know that I am to inherit it? The Talmud Brochos (7B) states Rabi Yochanan said in the name of Rabi Shimon Ben Yochai from the day G-d created the world there was nobody who called G-d "master" until Avrohom came and referred to Hashem as "my Master". The question is there were many people who previously referred to G-d as the King which also gives honor to G-d so what was so unique about Avrohom's acknowledgement of "my Master"? Rav Shimon Schwab zt"l answers that the word "king" connotes somebody of authority and rulership over you with no connection to his constituents. However, a master connotes somebody who you have a connection to and have the opportunity to constantly serve. Avrohom was the first individual to come to the realization that it is an unbelievable privilege to be "servants of Hashem" and an incredible responsibility. We must remember this role that each of us have and always work to enhance the service of "Our Master". Have a Wonderful Shabbos!
Have a Wonderful Shabbos!
Announcements
Kiddush this week is sponsored by Rabbi & Rebbetzin Loewy in honor of the birth of their daughter Rena Esther. All are invited to come celebrate after davening.
MAZEL TOV to Mr. Herman Gancz upon the birth of a great grandson.
MAZEL TOV to Dr. and Mrs. Harold Schechter upon the engagement of their daughter Jessica to Aaron Herring.
Thank you to Mrs. Ellen Hynes for sponsoring last week's kiddush commemorating the yahretzeit of her father.
Thank you to all who participated in YIEN's first successful potato harvest! Special thank you to Max Bloom and Ava Haddad for your help harvesting!
Please join us for the shul kiddush this week to taste the "vegetables of their labor."
YIEN'S First Potatoe Harvest Sunday October 7th
Thank you To Mindy and Mark Badash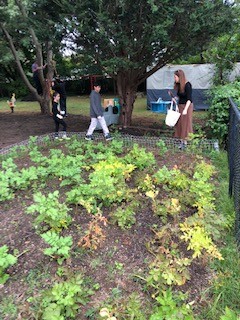 Sun, October 21 2018
12 Cheshvan 5779
Today's Calendar
---
Friday Night
Shabbos Day
Shacharis

: 8:45a
Mincha

: 5:25p
Havdalah

: 6:46p
Upcoming Programs & Events
---
Parshas Vayera
Candle Lighting
Havdalah
Motzei Shabbos, Oct 27, 6:46p
Shabbos Mevarchim
View Calendar
Zmanim
Alos Hashachar
5:49a
Earliest Tallis
6:21a
Netz (Sunrise)
7:11a
Latest Shema
9:54a
Zman Tefillah
10:49a
Chatzos (Midday)
12:38p
Mincha Gedola
1:05p
Mincha Ketana
3:48p
Plag HaMincha
4:56p
Shkiah (Sunset)
6:04p
Tzais Hakochavim
6:49p
More >>
Sun, October 21 2018 12 Cheshvan 5779