The Young Israel Of East Northport is highly regarded as the most reliable synagogue in Suffolk County where a Minyan can consistently be found.
Join Us For Our Daily Minyan
Morning Minyan: Monday – Friday 6:45 am; Sunday 8:30 am
MAARIV SERVICES 8:30 PM
Young Israel of East Northport Weekly Newsletter
MESSAGE FROM RABBI LOEWY:
Parshas: Elkev
In Parshas Eikev, the Torah commands us "to love Hashem your G-d, to walk in all His ways and to cleave to Him." We are supposed to mirror the character traits of G-d. Just as G-d Is merciful and slow to anger, so too we should echo these special traits in our interpersonal relationships. Although we try to adapt these traits of G-d, we are surely not capable of mastering every single one. For example, G-d has the power to bring the dead back to life. One might think there is no way a human can do so or maybe we shouldn't be so quick into thinking that? The Sefer Peninim al HaTorah suggests that a kind and caring person has the ability to bring the dead to life. Unfortunately, we know of so many people who are beside themselves due to health, family or personal issues. When a person goes over to such an individual and gives them a smile and a warm greeting, it literally raises a dead soul to life. It makes them feel so good at a time of sorrow and distress. All it takes is one moment and you can resuscitate the dead! Unbelievable!
Have a Wonderful Shabbos!
Announcements
• This week's kiddush is sponsored by the Haddad family in memory of Ya'acov Kiki Ben Yitzchak A"H.
• Welcome to Rabbi & Mrs. Noson Labovitz who will be joining us while the Rabbi & Rebbetzin are away. Please introduce yourself so they can meet all of our members.
• Mazel Tov to Mr. and Mrs. Ben & Shulamith Guterman upon the engagement of their grandson Aryeh to Leora Karoly. Mazel tov to Aryeh's parents David and Amy Guterman.
• Thank you to all of those who helped make last week's Traveling Chassidim shabbaton such a huge success!
Thank you to the following families for sponsoring the event:
o Rabbi & Rebbetzin Yosef Loewy
o Mr. & Mrs. Ben & Shulamith Guterman
o Mrs. Ellen Hynes
o Mr. Richard Bornstein
o Mr. & Mrs. Stu & Sharon Popovitz
o Drs. Brian & Bonnie Gilman
o Mr. & Mrs. David & Amanda Nayberg
o Haddad family
o Drs. Charles & Adina Famulare
o Dr. & Mrs. Harrold and Toby Schechter
• EXCITING SHUL FUNDRAISING RAFFLE!! Our annual summer raffle is under way!! This years prizes are: 1st place- $2,500, 2nd place-$750, 3rd place- a choice of $350 or 2 free tickets to the YIEN 40th annual journal dinner! 1 ticket for $36, 2 for $54 and 3 for $100. Tickets can be purchased on the YIEN website, yieeastnorthport.org. For more information, please contact Mr. Ben Guterman at bengut@optonline.net.
• The sisterhood will be having their 2nd annual Rosh Hashana Greeting Cards Fundraiser. For $36 you can have your family included in wishing the YIEN Family a happy sweet new year. If you are interested in participating, donations can be mailed to the shul or paid for online at yieastnorthport.org as a general donation. For more information, please contact yieastnorthportsisterhood@gmail.com. Deadline is THIS Sunday, August 25th!
• Reminder: The sisterhood is still selling all occasion cards for $10 each and a package of 4 for $36. This is a great way to support the shul and show a loved one you care. In addition, we are continuing to sell supermarket gift cards to benefit the shul. A percentage of each card purchased will be donated to the shul. To purchase cards or for more information, please contact Shulamith Guterman at (631)-543-8699.
• Please note that the Rabbi's weekly classes and Sunday Morning Learning program will break for August and will resume in September.
Upcoming Shul Events
• SAVE THE DATE: The Sisterhood will be having their annual kick off brunch on Sunday, September 15th. All are encouraged to join. Please RSVP to yieastnorthportsisterhood@gmail.com if you will be attending.
• To Sponsor a kiddush, Sunday morning breakfast and learning, or other shul event, please contact Mr. Ben Guterman @ bengut@optonline.net
YIEN in the Press
Update this content.
YOUNG ISRAEL OF EAST NORTHPORT PESACH 2019 / 5779
YIEN'S First Potatoe Harvest Sunday October 7th
Thank you To Mindy and Mark Badash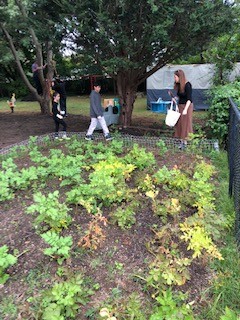 Mon, August 26 2019
25 Av 5779
Today's Calendar
Shacharis

: 6:45a
Maariv

: 8:30p
---
Friday Night
Candle Lighting

: 7:11p
Mincha

: 7:15p
Shabbos Day
Shacharis

: 8:45a
Mincha

: 6:55p
Havdalah

: 8:18p
Parshas Re'eh
Candle Lighting
Havdalah
Motzei Shabbos, Aug 31, 8:18p
Rosh Chodesh Elul
View Calendar
Zmanim
Alos Hashachar
4:46a
Earliest Tallis
5:21a
Netz (Sunrise)
6:14a
Latest Shema
9:34a
Zman Tefillah
10:41a
Chatzos (Midday)
12:55p
Mincha Gedola
1:28p
Mincha Ketana
4:49p
Plag HaMincha
6:12p
Shkiah (Sunset)
7:36p
Tzais Hakochavim
8:21p
More >>
Mon, August 26 2019 25 Av 5779