The Young Israel Of East Northport is highly regarded as the most reliable synagogue in Suffolk County where a Minyan can consistently be found.
Join Us For Our Daily Minyan
Morning Minyan: Monday – Friday 6:45 am; Sunday 8:30 am
Upcoming Shul Events
Shabbos Project is coming to East Northport!
Please join us for a Challah bake on Wednesday night, October 24th and programming throughout Shabbos. Stay tuned for more details. If you would like to volunteer at the Challah Bake, please contact the Rebbetzin at elishevaloewy76@gmail.com.
To watch the Shabbos Project video Click link SHABBOS PROJECT
Please come help the men of YIEN take down the sukkah after davening this Sunday, October 14. Hot coffee and refreshments will be served.
Sunday morning learning and breakfast will begin another season next Sunday, October 21 following davening!
Attention women: Please join us next Sunday, October 21 at 7:00 pm for the showing of "Bringing the Geulah: with the Power of our Chessed", an inspirational video in honor of Rachel Imeinu's yahrtzeit. Light refreshments will be served. Please see attached flyer for more details.
YIEN in the Press
Update this content.
Young Israel of East Northport Weekly Newsletter
MESSAGE FROM RABBI LOEWY:
In Chapter eight verse ten, the Torah tells us "vayachel od". Noach waited another seven days to send out the dove a second time and the dove never returned. Two verses prior to this one the Torah records the first time Noach waited and sent out the dove and uses a slightly different word "vayiyachel od". Rashi explains the difference between the two verses is that the first one is simply telling us Noach waited but the second one tells us that Noach had to force himself to wait. Rav Moshe Feinstein zt"l in his classic work Darash Moshe explains just like an individual who is anticipating something special to occur can't wait for that minute to arrive so too Noach couldn't wait for the minute he could exit the ark. Noach had just sent a dove to investigate and it came back with an olive branch portraying the water had receded from the earth but it must not have been enough. Noach knew it would not make sense to send out a dove immediately afterwards but it was still difficult for him to wait it out. However, he thought to himself G-d had put him into the ark for a set amount of time and there was a reason for all of this. G-d could have come up with another way of saving him but chose this method for a specific reason. Even though it was difficult, Noach put his full trust in G-d and waited for the right time to exit the ark. It was with this mindset that he and his entire family merited being saved from this catastrophic flood. This is a lesson for life. If we put our full belief and trust in G-d he will be there for us at all times saving us from all troubles and catastrophic situations.
Have a Wonderful Shabbos!
Announcements
MAZEL TOV to Mr. Herman Gancz upon the birth of a great grandson.
MAZEL TOV to Dr. and Mrs. Harold Schechter upon the engagement of their daughter Jessica to Aaron Herring.
Thank you to Mrs. Ellen Hynes for sponsoring last week's kiddush commemorating the yahretzeit of her father.
Thank you to all who participated in YIEN's first successful potato harvest! Special thank you to Max Bloom and Ava Haddad for your help harvesting!
Please join us for the shul kiddush this week to taste the "vegetables of their labor."
YIEN'S First Potatoe Harvest Sunday October 7th
Thank you To Mindy and Mark Badash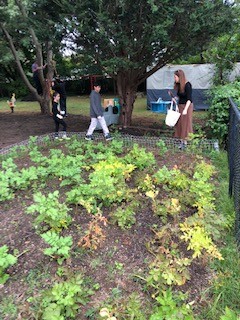 Wed, October 17 2018
8 Cheshvan 5779
Today's Calendar
Shacharis

: 6:45a
Maariv

: 8:30p
---
Friday Night
Shabbos Day
Shacharis

: 8:45a
Mincha

: 5:35p
Havdalah

: 6:56p
Upcoming Programs & Events
---
Parshas Lech Lecha
Candle Lighting
Havdalah
Motzei Shabbos, Oct 20, 6:56p
Shabbos Mevarchim
View Calendar
Zmanim
Alos Hashachar
5:45a
Earliest Tallis
6:16a
Netz (Sunrise)
7:06a
Latest Shema
9:52a
Zman Tefillah
10:48a
Chatzos (Midday)
12:38p
Mincha Gedola
1:06p
Mincha Ketana
3:52p
Plag HaMincha
5:01p
Shkiah (Sunset)
6:10p
Tzais Hakochavim
6:55p
More >>
Wed, October 17 2018 8 Cheshvan 5779