The Young Israel Of East Northport is highly regarded as the most reliable synagogue in Suffolk County where a Minyan can consistently be found.
Join Us For Our Daily Minyan
Morning Minyan: Monday – Friday 6:45 am; Sunday 8:30 am
Young Israel of East Northport Weekly Newsletter
MESSAGE FROM RABBI LOEWY:
When Yosef reveals himself to his brothers he tells them twice that "I am Yosef your brother." Why didn't his first revelation suffice and what did repeating himself add? R' Mosher Feinstein zt"l explains that when Yosef revealed himself the first time he was talking about himself physically that "I am Yosef your brother". His brothers were worried that he was influenced by the Egyptians and would harbor ill feelings towards them for what they did. Therefore, he repeated himself I am the same Yosef that you sold to Egypt 22 years ago with the same character traits and values that were instilled in me from my forefathers. This comforted them that he really didn't harbor any ill feelings and still loved them tremendously. May we learn from Yosef the importance of exuding real love toward our fellow Jews and always acting with positive character traits that our forefathers taught us so well.
Have a Wonderful Shabbos
Announcements
Kiddush this week is sponsored by YIEN.
Welcome to Rabbi Mark Volk, executive director of Young Israel who will be our scholar in residence this Shabbos. Rabbi's Volk and Loewy will be conducting a special forum at a Friday night oneg after the shul meal discussing "Being an Orthodox Jew in the modern world". In addition, Rabbi Volk will be speaking after mussaf and at shalosh seudos for both men and women. Please join us for an enlightening and inspirational Shabbos. Special thank you to all our sponsors for the program.
Sunday morning Breakfast and Learning with Rabbi Loewy this week at 9:20 am.
Thank you to all who participated in YIEN's first successful potato harvest! Special thank you to Max Bloom and Ava Haddad for your help harvesting!
Upcoming Shul Events
• Please note that this Tuesday, December 18th is the fast of Asara B'Teves (the tenth of Teves). The fast begins at 6:00 am and ends at 5:05 pm.
The Shul's annual journal dinner will take place on March 31st at the Crest Hollow Country Club. Stay tuned for more details.
Sunday Morning Breakfast and Learning will take place with Rabbi Loewy this week at 9:20 am.
Rabbi Loewy's Monday Evening Ladies class on "Shearim B'Tefilla takes place every week at 7:45.
YOUNG ADULTS! Pizza, Ice Cream, and Q &A Session with the Rabbi will take place on Sunday evening, December 23rd at the Rabbi and Rebbetzin's home. Please submit your questions to Rabbi Loewy at rabbiloewy@gmail.com.
* To Sponsor a kiddush, Sunday morning breakfast and learning, or other shul event, please contact Mr. Ben Guterman @ bengut@optonline.net
YIEN in the Press
Update this content.
YIEN'S First Potatoe Harvest Sunday October 7th
Thank you To Mindy and Mark Badash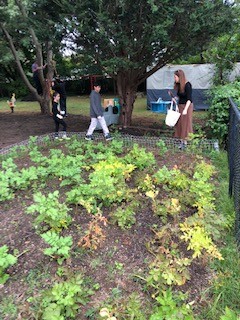 Sun, December 16 2018
8 Teves 5779
Today's Calendar
---
Friday Night
Shabbos Day
Shacharis

: 8:45a
Mincha

: 4:00p
Havdalah

: 5:19p
Parshas Vayechi
Candle Lighting
Havdalah
Motzei Shabbos, Dec 22, 5:19p
Fast of Tevet
View Calendar
Zmanim
Alos Hashachar
5:43a
Earliest Tallis
6:16a
Netz (Sunrise)
7:11a
Latest Shema
9:30a
Zman Tefillah
10:16a
Chatzos (Midday)
11:49a
Mincha Gedola
12:12p
Mincha Ketana
2:31p
Plag HaMincha
3:29p
Shkiah (Sunset)
4:27p
Tzais Hakochavim
5:12p
More >>
Sun, December 16 2018 8 Teves 5779